Fiorentina-Napoli extravaganza shows why Serie A will always be loved
Posted on 30 October 2013 06:00 by mr. Giglang
A magnificent 90 minutes in Florence reminded doubters that the Italian league has quality in depth, which helps it remain among the most revered competitions in the world
COMMENT
By Kris Voakes
Once considered the greatest league in world football, Serie A has not been held in quite such high regard in recent years. Amid match-fixing scandals, court cases, money troubles and falling attendances, the Italian game has seen its stock fall markedly.
But anyone who has been willing to look beyond the headlines has regularly been rewarded with entertainment and technical play of the very highest standard, and Napoli's 2-1 win at Fiorentina on Wednesday night provided yet another example of just how great club football on the peninsula can be.
For two clubs coming from outside of the traditional powerbase, both of whom have had to rise like a phoenix from the ashes since the turn of the century, they each are currently considered as being among the finest exponents of football in Europe. And Wednesday night showed why.
It was a game that had everything. Jose Callejon scored a wonderful opening goal from a fantastic cross by Gonzalo Higuain. Fiorentina replied with a well-taken Giuseppe Rossi penalty after Federico Fernandez had led with his arm on Stefan Savic, but Napoli's response was clinical once more, with Dries Mertens firing home superbly after a beautiful one-two with Higuain.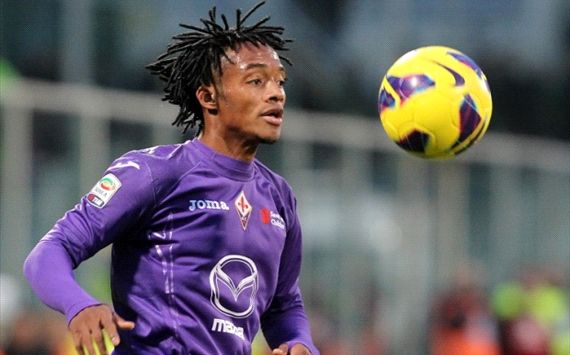 The boy who cried wolf | Sinner Cuadrado would later be punished
And the action didn't end with the goals. Vincenzo Montella's Viola continued to throw everything they had at the visitors, hitting the post through Juan Cuadrado and coming close on numerous other occasions. There were last-ditch tackles, magnificent runs, sublime pieces of skill and exquisite passes. And as with any great drama, there was controversy too.
Cuadrado and Rossi both saw yellow for dreadful attempts to con referee Gianpaolo Calvarese into awarding Fiorentina the chance to equalise from the penalty spot. Late in the game, the fall of the Colombian would trip him up in more ways than one. When he was clipped in the area by Gokhan Inler in injury time, Calvarese thought he was being had again and sent Cuadrado off.
Had he not dived originally, Cuadrado would not have been red-carded. Moreover, the man in the middle may have been more inclined to believe he was the type to only go down when he had been fouled. The boy had cried wolf, and, as with the old tale, when his claims did have merit nobody that mattered wanted to listen.
It was a dramatic, pulsating ending to a match that had been both of those things throughout. With budgets far below those of teams in France, England and Germany, two of Italy's less-heralded clubs again showed that massive contracts do not have to be signed for the greatest football to be delivered. Technical ability has always run deep in the bel paese, but so too has drama and value for money.
Elsewhere on Wednesday night, while Gareth Bale and Cristiano Ronaldo, who between them cost roughly the same as the two starting line-ups in Florence, helped Real Madrid to a 7-3 victory in a one-sided goalfest. The real entertainment, complete with to-and-fro action in both defence and attack between genuine contenders for the top spots in the league, happened in Florence.
With unfancied league leaders stringing together win after win, attractive underdogs putting up title fights, a newly promoted outfit sitting in the top five and the traditional giants struggling to keep up, nobody can claim that Italy isn't full of drama right now. And anyone who doubts this should watch back Wednesday's game and they will soon change their mind.
Source: http://www.goal.com/en/