Can Juventus really hope to sign Henrikh Mkhitaryan?
Posted on 15 January 2015 05:10 by mr. Steve
Juventus have shown willing. "Henrikh Mkhitaryan is a player who would work well within our project," explained general director Giuseppe Marotta.
The player's agent has also given his blessing. "He would definitely suit Juventus and should be playing for one of the top 10 teams in the world," claimed Mino Raiola.
All that's missing is the okay from Borussia Dortmund. But that could be some time in coming.
Mkhitaryan has personified Dortmund's struggles in 2014-15. BVB sit joint-bottom of the Bundesliga table at the midway point of the season, with the former Shakhtar Donetsk man still searching for a first goal or even a first assist.
It is a far cry from his first campaign in the famous yellow and black shirt, with 13 goals and 10 final passes in all competitions quantifying an excellent start with the club after his €27 million move from the Ukrainian Premier League in 2013.
But the difficulties which have befallen Jurgen Klopp's side mean that Juve have now eyed an opening. They see Dortmund's current plight as a chance to snap up one of the world's most competent attacking midfielders on the cheap, thereby filling a position they are in clear need of strengthening.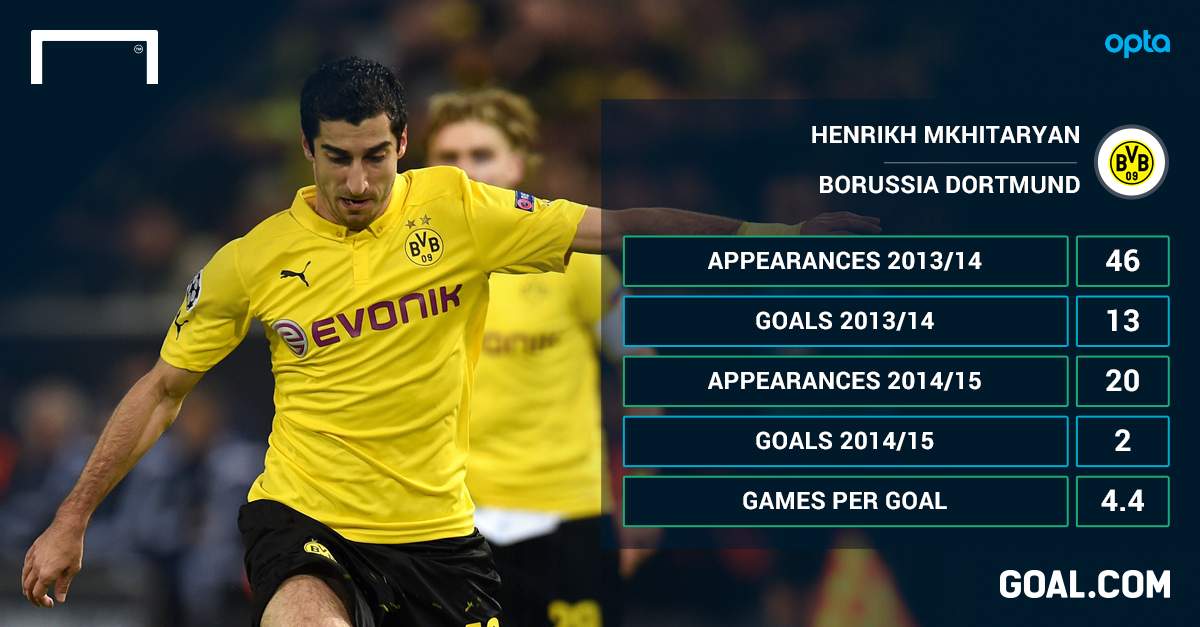 The trouble is that the Germans themselves are unlikely to see things the same way. Yes, they may risk losing him for a significantly lesser fee at the season's end should they miss out on the Champions League spots – or worse still, suffer relegation.
But that is unlikely to drag down their asking price into Juve's window of opportunity. And considering the fact they couldn't raise the €20m Galatasaray demanded for Wesley Sneijder, one has to wonder how the Turin giants will find the cash to meet BVB's valuation of Mkhitaryan.
"We had really hoped to sign Sneijder, but we feel we don't want to complete any deal which is so financially significant," Marotta explained to Sky Sport Italia recently.
"Mkhitaryan could bring something extra to Serie A, but I don't know whether Serie A can afford him," added Raiola to Mediaset Premium. "Dortmund might be struggling in the league but they don't have financial issues. It is going to be very difficult, almost impossible, for any club – not just the Italian ones – to buy him."
Add in Juventus' strict wage structure, which sees Carlos Tevez top their annual salary figures on €4.5m, and there could be a stumbling block there too. Although it is believed Mkhitaryan earns around €3.5m at BVB, how much of a raise it would require to lure him away from Signal Iduna Park is unclear.
Also, this is not the first time Juve have shown an interest in the Armenia captain. Both the Bianconeri and Liverpool had entered the race to snatch him from Shakhtar before he left for Dortmund. Yet even back then, the Italians' lack of spending power was being used as a reason to discount a deal being done.
"The chairman of our club does not hurry, the necessary sum has been defined for which Mkhitaryan will leave the club", explained Shakhtar boss Mircea Lucescu at the time. "To my opinion Juventus is not ready to pay that amount."
As such, the Old Lady are no closer to snapping up Mkhitaryan than they were two years ago. While Liverpool were flying him in to the UK for talks and Dortmund were securing a concrete deal, Juve were left looking on like children pressing their faces against a sweet-shop window.
And that is unlikely to change unless the club breaks with its recent trend and decides it will sign Mkhitaryan no matter what the cost.
Source: www.goal.com